Retrofit Jigger
Upgrade package for Jigger with mechanical gear-box
We can convert your Jigger to the latest electronic geared motor drives. As a result, costs for machine maintenance and down-time will be significantly reduced, allowing you to spend money on other important machine investments. Additionally, special functions are now integrated in the Sedomat controller which were only available on the latest state-of-the-art jiggers. Fabric tension as well as fabric speed can be controlled.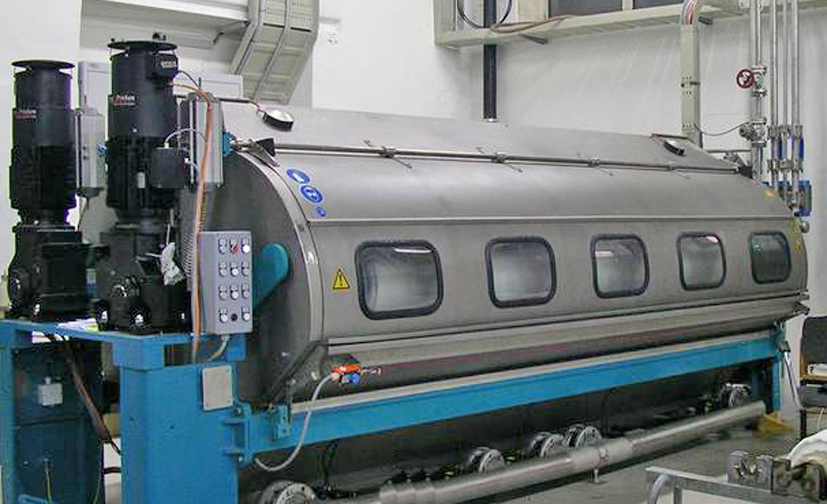 Functions
Control of fabric tension and speed
Heating of bath
Hood heating
Filling machine to level
Filling side tank
Dosing

Initial dosing in bath (e.g. 30%)
Continuous additional dosing via programmable number of passages
Loading

Maximum tension is controlled (tension is set at the unwinding A-frame)
Constant speed while loading

Sampling always at the same location
Variable balancing time between the passages (achieve constant dyeing time for different cloth lengths
Overflow rinsing with controlled water quantity (option)
Liquor circulation control with frequency inverter (option)
Advantages
No mechanical gear maintenance required, which results in saving several 1,000's Euro overhaul costs per year and avoiding of lost production

Reduced energy consumption by DC link coupling (brake energy is converted into drive energy)

No extra fabric tension sensor within the machine which could be damaged by aggressive ambient conditions

Length registration (without revolving roll)
The Sedomat shows

Machine visualization

Temperature, dosing, etc.

Consumption of power, energy, water (when flow meter connected)

Length of fabric

Integration with SedoMaster/ColorMaster enables planning, statistical reports and further process optimization
Upgrade package
2 AC motors for roller drive with integrated gear, incremental transducer and drip cover
Roller bearing
Mounting plate with height adjustment for roller bearing and gear/motor block
Panel with

2 frequency inverter with DC link coupling: brake energy is converted into drive energy
Sedomat 5500 with internal IEC1131 PLC, Profibus DP and I/O's
Operator control box for loading, unloading, sampling, forward/backward motion, open hood
Pneumatic
Complete electronics for all functions
Other Machine Modernizations
Ready for the
Smart Factory
Flexible automation of machines and mobile system components is the basis for production 4.0.